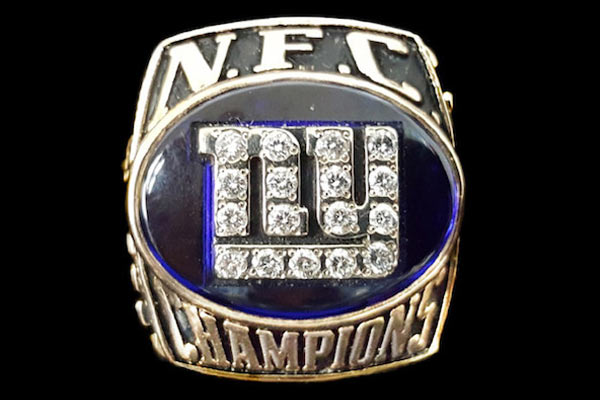 SellYourGold.com, America's premier buyer of gold and precious metals direct from the public, recently added a new fan to its ranks in the form of Dave Maltese, the long-time Video Director of the New York Football Giants.
SellYourGold.com empowers consumers across the nation to safely sell gold, jewelry, and diamonds online. Occasionally, an unusual item prompts a closer look by the company's processing and compliance team. This happened recently when a New York Giants NFC Championship ring arrived at SellYourGold.com's secure facility. Noting that the name inscribed on the ring did not match the name of the customer who sent it, SellYourGold.com attempted to verify ownership of the ring. After tracking down Maltese and notifying local Florida law enforcement, the Company learned that the ring had recently been stolen. When law enforcement told Maltese that SellYourGold.com had released the ring and it would be returned to him, the veteran Giants employee was thrilled to get the prized memento back. "I couldn't believe it when I got the call. SellYourGold.com tracked me down before I even realized the ring was missing. I can't thank them enough for reaching out so quickly and making sure I got my ring back," said Maltese.
"Being one of the country's leading gold buyers means treating people right, and we want SellYourGold.com customers to have faith in the integrity and security of our company. That's why we've implemented processes and procedures that flag suspicious items for internal review. Returning the NFC Championship ring to Mr. Maltese is an honor and shows that our process works," said SellYourGold.com's VP of Operations, Laurence Levine.
Maltese, a New Jersey native, has worked for the New York Giants organization for more than 25 years. He earned the ring in question when his team beat the Minnesota Vikings 41-0 on January 14, 2001 to earn a trip to Super Bowl XXXV. Maltese was also a part of the Giants Super Bowl Championship teams in 2007 and 2011 and continues to work for the Giants organization in East Rutherford, NJ.