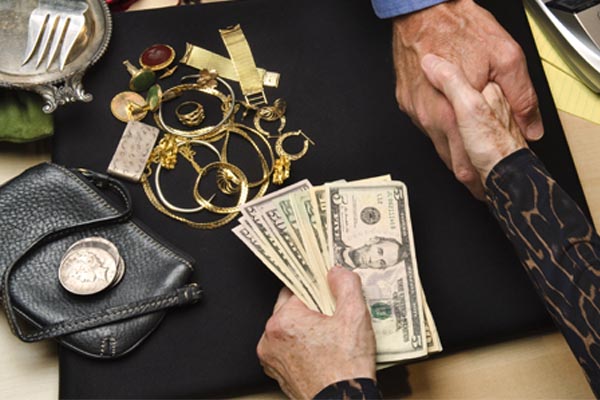 If you're considering selling gold jewelry, coins, bullion or other valuables, now is the time to do it. The demand for gold is high around the world, with investors looking to purchase safe options to stocks and bonds in response to recent changes in global markets. Right now, the price of gold is at an eight-year high, up more than 15% this year alone. That could change quickly, however and the price of gold could start going down as the U.S. stock market rebounds. That means the time to sell gold for the largest financial gain is right now!
If you're looking for a safe and convenient way to sell gold, consider these important factors first:
Online vs. In-person Sales – Over the past few years, online sales of gold and jewelry have grown. Consumers appreciate how quick and easy it is to sell gold online. At SellYourGold.com we provide free FedEx shipping for your items insured up to $100,000. That means we'll ship everything you need to sell your gold directly to your door. All you have to do is fill out the paperwork included and return the items to us in the pre-paid envelope. If you're looking for a safe way to sell gold and other jewelry without leaving your home, an online buyer like SellYourGold.com is the safest and quickest way to do it.
Timeliness – In these times you are probably looking for quick payment for your gold and jewelry items. SellYourGold.com can guarantee payment to your account within 24 hours of receipt of the items. That means you can have cash in hand within just 1 day, with no shipping costs and your satisfaction guaranteed, or we'll return your items free of charge.
Customer Reviews – You wouldn't walk into a pawn shop to sell your gold without asking around beforehand to learn more about the business. You should do the same kind of research for an online company. Protect your assets before you ship to an online retailer by doing your research. At SellYourGold.com, we're proud of our A+ rating from the Better Business Bureau, and our thousands of positive reviews. You don't have to take it from us, just check out our 5-star TrustPilot reviews from happy SellYourGold.com customers.
At SellYourGold.com we provide a safe, simple and quick way to sell gold online, with touch-free shipping and payment services to protect you and you family. If you have gold jewelry, coins, bullion, bars or more and are looking for an easy way to turn those items into cash today, SellYourGold.com is one of the top gold buyer in the country, with more than $60 million paid to happy customers from coast to coast. If you're staying safe at home this summer, you can still sell your gold quickly and safely, learn more today: SellYourGold.com