Selling Gold in Orlando, Florida
Find the Best Place to Sell Gold Near Orlando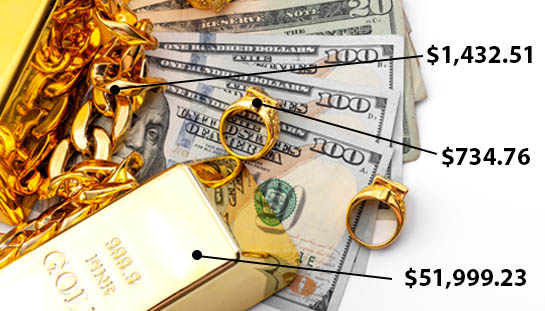 Reasons to sell your gold to SellYourGold.com
Free Shipping & Returns Nationwide
Free Insurance up to $100,000**
Up to 3x Higher Payments than Pawnshops
Best Price Guarantee††
Same Day Payments
Satisfaction Guaranteed††
About Orlando, Florida
Orlando is a city in the U.S. state of Florida and is the county seat of Orange County. In Central Florida, it is the center of the Orlando metropolitan area, which had a population of 2,509,831, according to U.S. Census Bureau figures released in July 2017, making it the 23rd-largest metropolitan area in the United States, the sixth-largest metropolitan area in the Southern United States, and the third-largest metropolitan area in Florida behind Miami and Tampa. Orlando had a population of 307,573 in the 2020 census, making it the 67th-largest city in the United States, the fourth-largest city in Florida, and the state's largest inland city.
Get the Most Money for your Gold
Looking to sell gold near Orlando? You have many options to choose from but some might not be what your looking for. When looking to get cash for gold in Orlando, many people choose to sell their gold online instead of local pawn shops or jewelers. Selling gold and jewelry online has been proven to be the safest and easiest way to get the the most money for your gold.
Local Pawn Shops/Gold Buyers in Orlando, Florida

Want the Highest Price for Your Gold?
Sell Your Gold to America's Top Nationwide Gold Buyer
Pawn Bros. - Jewelry & Diamonds


1411 Sand Lake Rd # D
Orlando, FL 32809

Queen of Pawns


5831 S Orange Blossom Trl
Orlando, FL 32839
Latin American Pawn Shop


3701 S Orange Blossom Trail
Orlando, FL 32839

Godfather Pawn Jewelry & Gun 10% Loans


5520 E Colonial Dr
Orlando, FL 32807
Ready to Start Selling Your Gold Today?
SellYourGold.com provides an easy, simple way to sell your gold online from the comfort of home. Our experienced team will evaluate your valuables, giving you an offer based on weight, material, and the daily gold price.
1) Request Your Free Appraisal Kit


We'll deliver your appraisal kit and free FedEx shipping label right to your door. Ready to get started sooner? Print your free appraisal kit at home.

2) Safely Ship Your Items


Drop your safely packed valuables at a FedEx location or schedule a free FedEx pick-up. Track your package the entire shipping process, from your hands to ours.

3) Receive Offer and Get Paid


Accept it and receive your secure payment via Direct Deposit, PayPal, or Company Check.
Over

5,500

5-Star Reviews and

A+ Rated

by the BBB!
Fill out the form for your
FREE Appraisal Kit
See What Our Customers Are Saying
Our Recent Payouts
Gold Eagles
Platinum Ring
Gold Necklace
American Eagle