How Do I Know If My Item Is Gold, Silver or Platinum?
It can be difficult to know if your items contain gold, silver or platinum. But, don't worry, there are a couple of things you can do to determine your item's metal type.
Don't be discouraged if you cannot find a specific marking or the test you are performing does not work. You are not a trained professional jewelry - we are! Remember, we will happily do all these tests for you at our secure facility - for free! All you need to do is complete the form and request an Appraisal Kit today.
If you want to examine your items from home, here are some simple tests you can perform:
Use a magnet to test
In addition to looking for hallmarks, another way you can test your item is with the magnet test. A refrigerator magnet may not be strong enough so we recommend a stronger magnet that you can find at your local hardware store.
Hold the magnet to your items
Gold is not magnetic so if the magnet attracts the jewelry, your item does not contain solid gold, silver or platinum. However, if the clasp on a chain is magnetic but the chain is not, it may be real. Regardless, it should still be tested by our GIA graduate expert to be certain since non-magnetic metals are used in counterfeit and costume jewelry as well.
Inspect the Hallmark
Hallmarks are also called assay or standard marking. Hallmarks are distinguishing characteristics that are stamped on gold, silver and platinum items - typically to identify the items purity. There are also hallmarks that can identify where the item was made (called a makers mark), the office the metal was tested in, the year, and the designer. You can find these hallmarks in a variety of places. Common locations are in the inside of a ring or a tag by the clasp of a necklace. If you are selling coins, the stamp is usually on the front face. Frequently, you will need a magnifying glass to clearly see the hallmark.
Purity Markings
The most common hallmark is meant to tell you an item's precious metal purity. The first thing you want to look for is the shape of the stamp. A rectangular shape with the corners shaved off will tell you immediately that the item is gold. An oval stamp would indicate the item is silver. A 'house' shaped mark is used for platinum items.
The number inside the shape is called the millesimal stamp number - this will tell you the actual precious metal content or the purity of the precious metal. Please note - different countries may have different hallmarking standards so the marking you see on your items may differ. Below are some common purity hallmarks: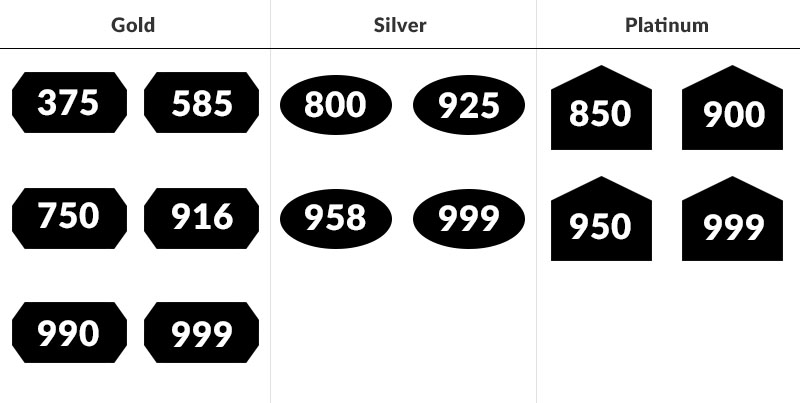 These markings correspond to different purities in gold, silver and platinum:
| Gold Purity Stamp | Purity | Silver Purity Stamp | Purity | Platinum Purity Stamp | Purity |
| --- | --- | --- | --- | --- | --- |
| 375 | 9 karat (37.5%) | 800 | 80% pure silver | 850 | 85% pure platinum |
| 585 | 14 karat (58.5%) | 925 | 92.5% pure silver | 900 | 90% pure platinum |
| 750 | 18 karat (75.0%) | 958 | 96.8% pure silver | 950 | 95% pure platinum |
| 916 | 22 karat (91.6%) | 999 | 99.9% pure silver | 999 | 99.9 pure platinum |
| 990 | 24 karat (99.0%) | | | | |
| 999 | 24 karat (99.9%) | | | | |
Makers Mark
A Makers Mark is the designer, manufacturing firm or representative symbol that is stamped into your precious metal - also called trademarks. This mark provides proof that your jewelry item was made by the designer or jewelry maker and is considered "signed". All marks need to be registered by an Assay Office.
Assay Office Mark
The Assay Office Mark tells you where your item was tested for its purity. Although manufacturing of precious metals has existed for hundreds of years, it only started in the U.S. around 1840. So many older items in the U.S. will be stamped with European marks - so its important to be aware of them. Even in the U.S., it wasn't until 1906, that the regulations around hallmarking went into effect.
Some common Assay Office Marks are: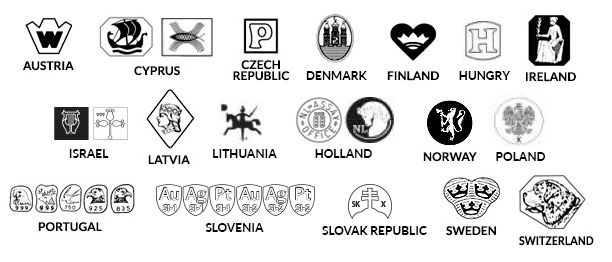 Date Letter
This stamp will tell you the year the purity of the item was tested - not the year the item was manufactured. Be careful - it can be tricky. You will hardly ever find this on a delicate piece of jewelry because there is simply not enough room.
If you do find a date on your piece, it will not look like your typical date. The date will be in the form of a letter. In 1478, London introduced a practice of dating all gold and silver artifacts and had it managed by a governmental controlled body. To prevent fraud every year was assigned a letter in the alphabet. Every 25 years they would then make modifications to the font or design around the letter to prevent confusion.
Other Marks
Aside from gold, silver and platinum there are a lot of other hallmarks you will see stamped in your jewelry that is meant to tell you about the item's contents and purity.
| Code | Meaning |
| --- | --- |
| GF | Gold Filled |
| P | Plumb Gold (this shows the item is at least the amount of karats shown on the stamp) |
| KP | Karat Plumb (this means the item is at least the karat listed, but may be more pure) |
| Pd | Palladium |
| PT | Platinum |
| PLAT | Platinum |
| Silver | Sterling Silver |
| SS | Stainless Steel |
| St Steel | Stainless Steel |
| cw | Carat Weight (typically will be an indicator the gem or diamond weight) |
| CZ | Cubic Zirconia |
| SOL | Solitaire Diamond |
| 4, 5, 6, 7, etc... | If a low number, it is typically an indicator of the ring size. |
Ultimately, rest easy knowing that if you're not sure you can always send your items to us for FREE and we'll test them for you at no cost!
Related